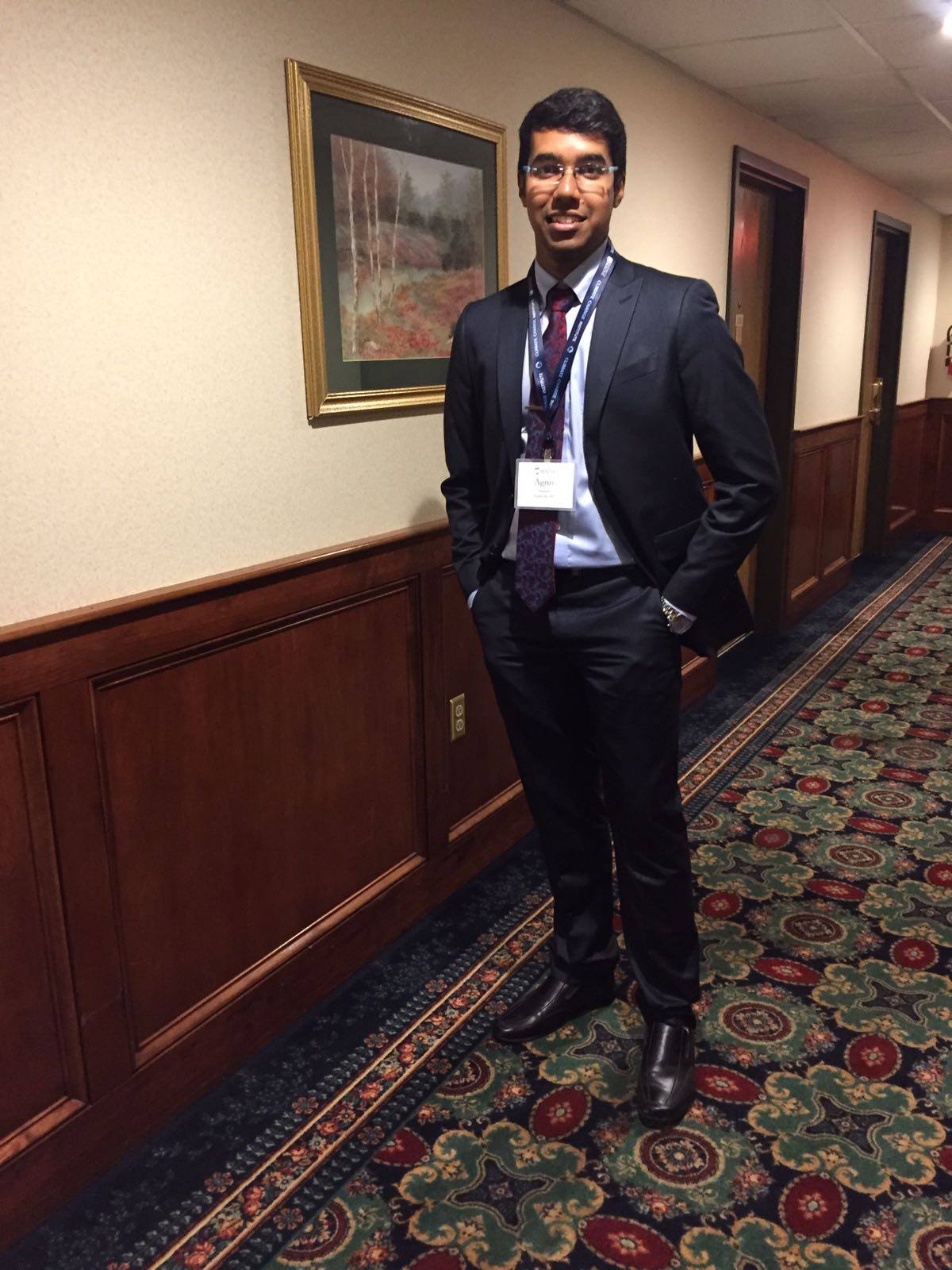 AOSC 200: Weather and Climate (Teaching Assistant with Prof. Tim Canty; Fall 2018 & Spring 2019)
AOSC 201: Weather and Climate Laboratory (Instructor; Fall 2018 & Spring 2019)
Ann G. Wylie Dissertation Fellowship, University of Maryland (2019)
Outstanding Graduate Research Assistant Award, University of Maryland (2018-19)
Eugene Rasmusson Graduate Fellowship, University of Maryland (2018)
Jacob K. Goldhaber Travel Award, University of Maryland (2017)
Leah Thornton Lozano Graduate Fellowship, University of Maryland (2017)
NCAR-CESM Tutorial Award, National Center for Atmospheric Research, Boulder, CO (2017)
CMNS Dean's Fellowship, University of Maryland (2016)
CMNS Dean's Fellowship, University of Maryland (2014-15)
Indian Academy of Sciences Summer Research Fellowship (2013)
Sengupta, A. and S. Nigam, 2019: The Northeast Winter Monsoon over the Indian Subcontinent and Southeast Asia: Evolution, Interannual Variability, and Model Simulations. J. Climate, 32, 231-249.
Sengupta, A. and M. Rajeevan, 2013: Uncertainty quantification and reliability analysis of CMIP5 projections for the Indian summer monsoon. Current Science, 105(12), 1692-1703.
Sengupta, A. and S. Nigam, 2018: The Northeast Winter Monsoon: Evolution and ENSO Impact in Observations and Model Simulations, American Geophysical Union Fall Meeting, Washington, D.C., 10-14 Dec. [Poster].
Sengupta, A., S. Nigam, and A. Ruiz-Barradas, 2018: South Asian Summer Monsoon: SST-Based Predictability and Real-Time Forecast of the 2016 and 2017 Monsoon, 31st Conference on Climate Variability and Change at 98th AMS Annual Meeting, Austin, TX, 7-11 Jan. [Poster].
Sengupta, A., S. Nigam, and A. Ruiz-Barradas, 2017: SST-based Statistical Forecast of the South-Southeast Asian Summer Monsoon Rainfall Distribution, 6th WMO International Workshop on Monsoons, Singapore, 13-17 Nov. [Oral].
Sengupta, A., S. Nigam, S. Baxter, and A. Ruiz-Barradas, 2016: Anatomy of the 2015-2016 El Niño Episode, 41st Annual NOAA Climate Diagnostics and Prediction Workshop, Orono, ME, 3-6 Oct. [Oral].
Sengupta, A., and M. Rajeevan, 2013: Assessment of South Asian summer monsoon climatology based on CMIP5 historical simulations and representative concentration pathways (RCPs), International Conference on Advances in Water Resources Development and Management, Chandigarh, India, 23-27 Oct. [Oral].
I am a graduate student in the Department of Atmospheric and Oceanic Science at the University of Maryland. My primary research interests lie in climate dynamics and in prediction and predictability.
My doctoral research focuses on determining the potential predictability of summer monsoon rainfall and developing subseasonal-to-seasonal forecasts over the resource-stressed and densely populated South Asian region. Seasonal predictability is premised on the presence of influential climate system components with large thermal inertia. Upper ocean temperatures, in particular, meet that criterion but reliable long-term observational records are available mostly at the surface. The influence of sea surface temperature (SST) on South Asian monsoon is efficiently mined in our prediction effort.
I am also interested in exploring El Niño-Southern Oscillation (ENSO) dynamics and variability, and characterizing such episodes using evolution-centric spatiotemporal SST analyses.
I advanced to Ph.D. candidacy in May 2018. I received my M.S. in Atmospheric and Oceanic Science from University of Maryland in 2016. My masters' scholarly paper is titled "The 2015-16 El Niño Episode: Classical Onset with Complex Evolution". Before joining the University of Maryland, I graduated with First Class Honors from Jadavpur University, Kolkata, India in June 2014 with a B.E. in Civil Engineering. In the summer of 2013, I was selected for the Indian Academy of Sciences' Summer Research Fellowship Programme (SRFP) in the Earth & Planetary Sciences category, and I had the pleasure of working with Dr. M. Rajeevan at the Ministry of Earth Sciences (MoES), Government of India. Also, I also did an undergraduate research internship in the summer of 2012 at the Indian Institute of Technology, Bombay with Prof. Subimal Ghosh and Prof. Subhankar Karmakar.
[03/19]: Recipient of the 2019-20 Ann G. Wylie Dissertation Fellowship
[12/18]: Selected for the 2018-19 Outstanding Graduate Research Assistant Award (top 2% of campus GAs)
[12/18]: New paper published in the Journal of Climate
[07/18]: Recipient of the 2018 Eugene Rasmusson Graduate Student Fellowship
[05/18]: Advancement to Ph.D. Candidacy
[01/18]: Travel to Austin, TX, to present at the 98th AMS Annual Meeting
[01/18]: Student Board Member, AMS Committee on Climate Variability and Change (AMS-CVC)
[11/17]: Travel to Singapore for an oral presentation at the 6th WMO International Workshop on Monsoons
[08/17]: Attended the 2017 NCAR CESM Tutorial at the National Center for Atmospheric Research, Boulder, CO
[06/17]: Recipient of the 2017 Leah Thornton Lozano Graduate Fellowship
[10/16]: Presented my work on the attribution of the 2015-16 El Niño Episode at NOAA CDPW 2016, Orono, ME
Department of Atmospheric and Oceanic Science | 4341 Atlantic Building | University of Maryland, College Park, MD 20742